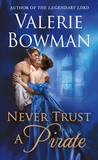 Never Trust a Pirate by Valerie Bowman
Genre: Historical Romance (Regency)
Series: Playful Brides #7
Source: I received a complimentary copy.
Publication date:

May 2, 2017

Publisher:

St. Martin's Paperbacks

Language:

English

ASIN:

B01M8G3HBN
Length: 321 pages
(Courtesy of Amazon)
Product Description
The rules of engagement were never so scandalous. . .
A rumored pirate and the scurrilous black sheep of his well-to- do family, Cade Cavendish relishes his world of rebellion, deception, and seduction. Nothing and no one can hold him to be the duty-bound, honorable man he is expected to be. But when an unexpected run-in at his twin brother's estate with a ravishing, raven-haired maid leads her to believe he's actually a viscount, Cade's renegade life is thrown wildly off-kilter. And even though a case of mistaken identity can be quickly set to rights, matters of the heart are quite different…
Miss Danielle LaCrosse is startled to learn that the handsome gentleman who radiates sin and has the devil in his eyes is not her employer the Viscount, but rather his infamous brother. A former heiress, orphaned and left penniless, Danielle has more than a few secrets of her own. Cade may be skilled at coaxing even the most hidden desires out of Danielle but can he earn her trust—and win her heart—as they embark on an adventure to confront a dangerous enemy from both of their pasts . . . and uncover the identity of the so-called Black Fox along the way?
Never Trust a Pirate is part of the Regency-set Playful Brides series by Valerie Bowman
Now available!!
MY THOUGHTS:
Never trust a Pirate by Valerie Bowman is another exciting Regency Historical Romance in her "Playful Brides" series. While #7, it can be read as a stand alone. It does have re-appearing characters from previous books. This does not distract nor interfere in enjoying "Never Trust a Pirate". Refreshing and intriguing story!
This is the story of Cade Cavendish and Miss Danielle LaCrosse. Cade is the "black sheep of the Cavendish family, with secrets. He is the twin brother to Rafe from a previous story. Danielle, is Rafe's wife Daphne's, lady's maid. Ah, there is so much more to her than meets the eye. Is Cade the so called pirate "Black Fox", a famous spy for the Crown? Afterall, he's very good at deception, seduction, secretive and is very rebellious. Let's not forget he's devilishly handsome, with a devil may care care attitude. But lay all aside, he's out for revenge, on the man who hurt his brother, Rafe. Ah, he's also a spy. Danielle, is more than a French maid, she's beautiful, sensual, and drives Cade mad with desire. It's hard to decide which side she's on at first, or rather who's she working for, the Crown or the bad people. As she seems to be spying on Cade.
"Never Trust a Pirate" is not your everyday spy adventure. There are many twists and turns, surprises, witty banter, danger and adventure.
Let's forget not, who is the "Black Fox", I was totally shocked and surprised by who it was. Brilliant!!
I enjoyed the way Ms. Bowman mixed the spying with the interaction between the characters, and the true intend of the story. I enjoyed the witty banter between Cade and Danielle, their interaction was brilliantly written. They didn't forget their responsibilities, for their own desires nor do they forget what their goals are, but intend to carry them through to the finish. They completed their mission, although, Cade and Danielle faced the ruthless French spy. Will one of them lose they life?
Brilliantly executed, with an easy to follow plot, that flowed smoothly and continously throughout the story. The characters were enduring, engaging and easily capture your heart. I personally was glued to this story from the first page forward. A very captivating, intriguing and suspensive story. Unique in many ways, not just a predictable spy story. The suspense and mystery with the romantic interest was enough to keep the reader intrigued throughout "Never Trust a Pirate". A great read for fans of mystery, suspense, intruigue, romance, spies, and an overall splendid read. Very well done, Valerie Bowman !!! I can't wait to read the next "Playful Brides" story.
I received a complimentary copy.
Rating: 4.5
Heat rating: Mild
Reviewed by: AprilR