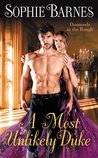 A Most Unlikely Duke by Sophie Barnes
Genre: Historical Romance (Regency)
Series: Diamonds in the Rough, #1
Source : I received a complimentary copy.
Publication date:

June 27, 2017

Publisher:

Avon

Language:

English

ASIN:

B01LXF0026
Length: 384 pages
(Courtesy of Amazon)
Product Description
He never thought he'd become a duke, or that the secrets of his past would cost him his greatest love…
Raphe Matthews hasn't stepped foot in polite circles since a tragedy left his once-noble family impoverished and in debt. The bare-knuckle boxer has spent the last fifteen years eking out an existence for himself and his two sisters. But when a stunning reversal of fortune lands Raphe the title of Duke of Huntley, he's determined to make a go of becoming a proper lord, but he'll need a little help, and his captivating neighbor might be just the woman for the job…
After her sister's scandalous match, Lady Gabriella knows the ton's eyes are on her. Agreeing to tutor the brutish new duke can only lead to ruin. Although she tries to control her irresistible attraction to Raphe, every day she spends with him only deepens her realization that this may be the one man she cannot do without. And as scandal threatens to envelop them both, she must decide if she can risk everything for love with a most unlikely duke.
Available for pre-order at all major outlets!! Reserve your copy today!!
MY THOUGHTS:
A Most Unlikely Duke by Sophie Barnes
is an interesting and stimulating Regency Romance. Book 1 in a new and what promises to be an incredible series, "Diamonds in the Rough". Fast paced, exciting with engaging characters and an intriguing plot. Our hero, Raphe, is certainly a diamond in the rough, but an exciting one, to be sure.
Raphe Matthews, a bare-knuckle boxer who, was born into the gentry, but due to a tragedy, he and his family are left impoverished and in debt. Raphe, at age of eight, started taking care of himself and his three siblings, working on the docks and prize fighting. Unfortunately, one sibling was lost to the streets St. Giles, which still eats at him. He has spent the last fifteen grueling years, attempting to make a living for himself and his two surviving younger sisters. When a stunning reversal of fortune hands Raphe the title of Duke of Huntley, he is determined to become a proper Duke and give his sisters a better life.
Lady Gabriella, Ralpe's new neighbor, has been brow beaten by her parents, since her sister's scandalous match, she knows the ton's eyes are on her to find a proper match. However, she agrees to tutor the new duke, a brutish hunk of a Duke, at that, but it can only lead to her ruin, but she agrees anyway. Raphe, is an honorable man, who honors his commitments, even if it would bring scandal to them all.
Together, Raphe and Gabriella, fight their attraction to each other, as well as
the scandal that is brewing. This story is heartwarming, as well as, intriguing, entertaining and proves, you can overcome the circumstances you are born into, by no fault of your own.
I was drawn into this story from the first page until the last, and can not wait to see what the next book in what promises, to be a most incredible series, will be about.
Ms. Barnes, is an amazing and talented author, who draws the reader into her stories with her characterizations, her details to Regency history, and her dramatization of the situations her characters find themselves in. "A Most Unlikely Duke", is powerful, compelling and an excellent choice for any fan of historical fiction, romance, drama with stunning characters and a most unlikely plot. Masterfully written. A really great read, in my opinion!
I received a complimentary copy.
Rating: 4.5
Heat rating: Mild
Received by: AprilR