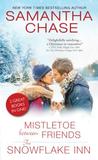 Mistletoe Between Friends / The Snowflake Inn by Samantha Chase
Paperback, 352 pages
Expected publication: October 4th 2016 by Sourcebooks Casablanca
*Summary copied from Goodreads.*
Two gorgeous stories about the most romantic time of the year…
The holidays don't have to be fraught with tension, as lifelong friends Lily Cavanaugh and Cameron Greene discover in Mistletoe Between Friends when they cook up a scheme to fool their family and friends.
The Snowflake Inn shows rivals Grace Brodie and Riley Walsh that Christmas is a time when dreams come true-even if you've given up on those dreams long ago.
My Thoughts
This is a wonderful addition to anyone's Holiday reading lists! I find I can read holiday books all year long, as long as they are good and this one well it's awesome. The stories are not connected to each other, but are two wonderfully written engaging tales of love and romance during the Holidays. First up is Mistletoe Between Friends, this is a true friends to lovers story. I loved watching Lily and Cameron come to terms with what they really want and were it might lead. Fans of Samantha Chase know she writes characters you adore and this story proves it. You feel for them, you cheer for them and cry for them. I loved it all.
Next up is The Snowflake Inn. This story is more about family and finding your place in life. I loved watching Riley deal with his past and where his future may go. Watching Grace deal with her fears and doubts was fun. But in truth the sparks flew between these two and made watching it all so much more fun. I loved the whole feel of this story. This is one of those that you can see being a "lifetime" movie. It just makes you smile and brings you joy.
I highly recommend this book and these two stories to fans of great romances set during the Holidays that leave you that "feel good" feeling. These can be read anytime of the year but I foresee them being added to my must read during the holidays list! Highly recommended!
*Received from NetGalley for the purpose of an honest review.*
Reviewed by WendyK
My rating: 5 of 5 stars
Heat Rating: Mild