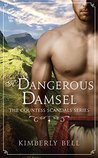 A Dangerous Damsel by Kimberly Bell
KIMBERLY BELL
Website
Twitter
Genre: Historical Romance(Scottish)
Series: The Countess Scandal #2
Source: Received for an honest review from Net Gallery.
Publisher: InterMix (July 19, 2016)
Publication Date: July 19, 2016
Sold by: Penguin Group (USA) LLC
Language: English
ASIN: B0177AGPQ8
(Courtesy of Amazon)
In eighteenth century Scotland, a born seductress meets her match in the second Countess Scandals novel from the author of A Convenient Engagement.
Deidre Morgan survives on her allure, quick hands, and quicker wits. But when her brother Tristan's gambling addiction gets him in too deep with the crime lord—and Deidre's former lover—Alistair, Deidre needs to come up with the money. Fast.
Rich and handsome, Ewan Dalreoch seems to be the perfect mark. Deidre plans to seduce him, take his money, and leave him behind. But Ewan isn't like the other men she's known—and he refuses to be shaken off.
Yet when Alastair comes after his debt, Deidre and Ewan both get more trouble than they bargained for—and perhaps a love worth fighting for.
Includes a preview of the next book in the Countess Scandals series
Praise for A Convenient Engagement
"A charming, hilarious, and engaging read, and best of all, full of handsome Highlanders!"—New York Times bestselling author Jennifer Ashley
My rating: 
A Dangerous Damsel by Kimberly Bell is a very entertaining Scottish Historical Romance. #2 in "The Countess Scandals", but can be read as a stand alone.
Well written with well developed, charming characters and a well thought-out, a bit complex but very intriguing storyline. With witty banter, danger, mystery, suspense, passion, trust, and romance, the characters bring to life the complexities of survival and finding love during times of hardship, pain and sled sacrifice. A few truths are revealed as well as a bit of clarity in one's situation. Fast paced and action packed, with some twists and turns. "A Dangerous Damsel", is a book to cherish, and a bit unique.
I enjoyed how Deirdre Morgan and Ewan Dalreoch, the new Earl of MacMurdo, come to be so much more than a passionate interlude, but find love, healing, forgiveness and acceptance. The secondary characters are absolutely a delight, especially, Ewan's dear friend, protector and Godfather, Angus, and the Deirdre's younger brother Tristan.
Ms. Bell has put together a wickedly delightful cast of characters, ones who are not to be trifled with, apparently. A must read! Fans of Highlanders, Historical Romance, adventurous entertaining and passionate embraces, will enjoy this story. Be warned: Hot, sexy love scenes are present between the hot sexy Highlander and the damsel in distress. Wickedly delicious Scottish Historical Romance!
Received for an honest review from Net Gallery.
Rating: 4.5
Heat rating: Hot/Sensual
Reviewed by: AprilR