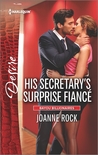 His Secretary's Surprise Fiancé by Joanne Rock
Published March 8th 2016 by Harlequin (first published March 1st 2016)
Her boss wants her in his office—and as his bride! 
Adelaide Thibodeaux grew up with Dempsey Reynaud, and she's worked for him for years. But when the billionaire football coach springs a surprise engagement to keep her from resigning, it's a low blow. Just as she's ready to strike out on her own, she's stuck in a fake relationship with her boss, biding her time…
But soon Adelaide faces a second blow: she's actually falling for the man! Can a relationship founded on a lie become the real deal? Or will they fumble before the end zone—and stay in the friend zone?
My Thoughts
*This book was received for the purpose of an honest review.*
*sigh* What to say. First I have to say that I read this one in one setting. I didn't want to put it down for anything. It was that good. I was hooked from page one until I turned the final page, a thing that happened much too quickly. Fans of the Desire line will love this storyline and characters. Fans of the Bayou Billionaires series are in for a treat. You do not have to have read either to follow this story or to enjoy it. I loved watching Adelaide come into her own, and I really loved watching Dempsey come to realize what was truly important. I will say the ending felt a bit rushed but that could have been because I didn't want it to end. The story is fun, easy to read, and fast paced. The characters are well written and delightful to watch struggle with this situation they find themselves in. I'm eager to read more from this series. If you are seeking a quick read that will leave you satisfied I'd suggest you pick up His Secretary's Surprise Fiance!
Rating: 4.5
Heat Rating: Mild