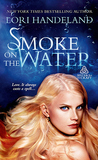 Smoke on the Water by Lori Handeland
Sisters of the Craft Series: book 3
Print Length: 352 pages
Publisher: St. Martin's Paperbacks (August 4, 2015)
Publication Date: August 4, 2015
Sold by: Macmillan
Language: English
ASIN: B00T34962W
Reunited after four hundred years, three sisters join together to vanquish the power that tore them apart…and embrace the sorcery that is their birthright.
Abandoned as an infant, Willow Black spent her childhood in foster care, the object of whispers and pity…and rumors about being certifiably crazy. Telling your young friends that you can foresee the future-and summon the rain-is a surefire way to end up in the psychiatric ward. But when Dr. Sebastian Frasier arrives at the facility, Willow's whole life takes a turn. Sebastian is the handsomest man she's ever actually laid eyes on-even though he has been in Willow's visions for years. But not even she could have predicted the storm of passion that engulfs them both. With Sebastian by her side, Willow is emboldened to embrace her history, and the sisters she never knew. Soon, the true power in her blood awakes-and the battle she was born to fight begins. While the temp est rages, Willow must depend on the friends and family she's found-and the man she has loved forever…
In the final book of this enchanting new trilogy, New York Times bestselling author Lori Handeland sweeps readers into a bewitching tale of secrets, sisterhood, and the stunning magic of love.
My Thoughts
*Received this book for the purpose of an honest review. Review as NOT influenced by this fact.*
*Review will be cross-posted to MyBookAddictionandmore.com.*
Fans of Lori Handeland already know that any book she writes will leave you eager for more. Smoke on the water is no different. The characters are wonderfully written and very engaging. The storyline is fast-paced, fun, at times a bit emotional or touching, and overall a fascinating read. While this is part of a trilogy to some extent you can read it as a stand alone. I must say I don't recommend it, only because the emotions will be much stronger if you read the first two stories, In the Air Tonight and Heat of the Moment. There are also some visits from characters we love from previous stories, but don't worry you won't be lost. Lori Handeland does a wonderful job of making sure new readers are able to keep up and eager to find out more about characters. SMOKE ON THE WATER is Willow Black and Sebastian Crane's story. I have to say I was eager to find out how the trilogy would end and where Willow has been all the years she was gone, SMOKE IN THE WATER answered all the questions I had, while still leaving an opening to more stories. Willow and Sebastian have a hard road to love and happiness but you know they have to get there. I loved how Ms. Handeland portrayed those who we don't understand may not be "crazy" but may have other things going on. I loved the whole premise behind this series, 3 sisters who were sent forward in time to a place where witches aren't hunted, yet evil follows them. We watch as Willow struggles to find who she truly is and what that means for her future. We watch as Sebastian has to learn to accept things he can't explain and find his way to his own future. Most importantly we watch as 3 sisters find their way to each other and a way to battle for their lives and future. I am eager to see more from all the characters found in this new series and hope that Ms. Handeland will continue to let us be a part of their lives. SMOKE IN THE WATER will pull you into a new and engaging world that you'll hate to leave. I highly recommend this book to all fans of Lori Handeland, paranormal romances, great characters, and fascinating storylines. You'll be glad you read this one!
Rating: 5
Heat Rating: Hot