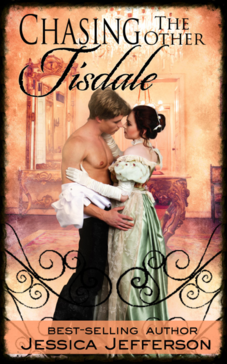 CHASING THE OTHER TISDALE
JESSICA JEFFERSON
Genre: Historical Romance (Regency)
Series: Regency Bloom series #3
Source: Received for an honest review from the author.
*From the author's website*
She's the other sister…
Overshadowed by the beauty of her older sister, Lillian is better known as the other Tisdale; unremarkable and unsure how she will ever deliver on the promise of her family's name.
He's a rake in need of reforming…       
Will Colton leads a frivolous existence, embracing notoriety instead of managing his family's fortune. Determined to forget his financial burden and his father's growing resentment, he maintains a lifestyle dedicated to pleasure and self-indulgence.
When Will is invited to the Tisdale estate for an extended holiday, he never expects to become friends with the forgettable Lillian. But when a family secret comes to light, he must choose between leaving London and protecting the honor of one woman or staying and risking the reputation of another.
Upon his return, Will finds the girl he left behind has come out of the shadows and into her own. Lillian's finally the center of attention, and not all of it good. With his own reputation in tatters, can a reformed rake lure her out of the hands of London's bachelors and back into his own arms? Can he escape his past and reclaim her heart, or has he lost her forever?
MY THOUGHTS:
CHASING THE OTHER TISDALE by Jessica Jefferson is an exciting Regency Historical Romance. #3 in the "Regency Bloom" series, but can be read as a stand alone. Let me say, first, this is a new author to me, and I absolutely loved her writing.
Meet, the other Tisdale sister, Lillian and Will Colton, a definite Rake with a family secret. Will is forced to leave England, and Lillian, who thought he was beginning to have feelings for her. Lillian is left with a broken heart.
Two years later… Will returns to England, after his father has died. Will is hoping to re-ignite the feelings between himself and Lillian. Lillian has other ideas, she can't bear to have Will engage her heart again and leave her. She may survive this time.
But Will, is determine to win Lillian's heart again and find his father's true identity, without dishonoring his mother's name and life. Can love prevail?
"Chasing the Other Tisdale" is a fast paced tale of secrets, love and romance. This is an easily embraced tale with witty banter, and engaging characters. The romance between Will and Lillian is passionate and emotionally contacted. The storyline, may be an old one, but it is written in a unique matter, with an intriguing and interesting plot.
I would highly recommend this title to anyone to enjoys a great Historical romance, Regency romance with a twist. An enjoyable and satisfying read from beginning to the very last page.  A must read!
*Received for an honest review from the author*
Rating: 4
Heat rating: Mild
Reviewed by: AprilR, courtesy of My Book Addiction and More