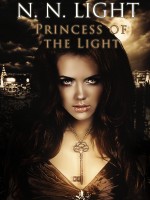 PRINCESS OF THE LIGHT
N. N. LIGHT
http://www.princessofthelight.com
Publisher:  Smashwords
Published date:  Aug. 26, 2014
ISBN 13: 9781310880230
Genre: Spiritual, Fantasy, Paranormal
Source: Received for a honest review
Book Description from Amazon
Gabriel, the Archangel and Messenger of God – yeah that Gabriel, visited Mary Miller. He told her, as the key she is destined to spread the Light and vanquish the Darkness. Her first assignment is to restore the soul the Walking Man. Sounds simple enough until she's thrown in the face of evil, and then Joe Deacons enters her heart. This battle just got a lot more complicated. She must complete her mission without losing all she loves.
My Thoughts
This was an action packed, spiritual, paranormal book.  Mary Miller has been chosen to spread the Light and restore the soul of a homeless man known as, "Walking Man."  She is under the guidance of Gabirel, the Archangel who is God's messenger.  As Mary follows Gabriel's directions, she discovers powers within herself to fight the Prince of Darkness.  The spiritual battles between the Prince of Darkness and Mary are amazing and suspenseful.
Mary's task of spreading Light is difficult.  As a further complication, Mary becomes involved romantically with Joe Deacons.  Joe falls in love at the first sight of Mary and instantly sets about sweeping her off her feet.  The two become inseparable and Joe helps Mary with her mission.  The suspense builds as the battles between the Prince of Darkness and Mary become more intense.  Mary and Joe are at risk of losing everything – including their lives.
I enjoyed reading this book.  The message of light vs dark was powerful.  I usually don't read paranormal books, but found the spiritual component in this one very interesting.  Anyone who loves stories about angels and God's messages will love this book.  Part of the proceeds of Princess of the Light will go to food banks.
.
Rating: 4
Heat Rating:  Mild
Reviewed by: Molly Waters
Courtesy of My Book Addiction and More