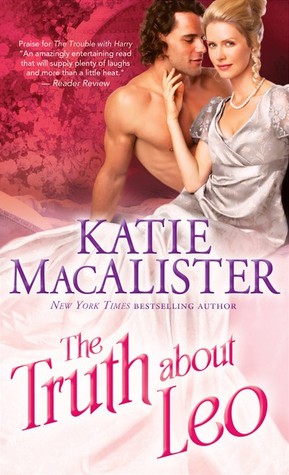 THE TRUTH ABOUT LEO
KATIE MACALISTER
Genre: Historical Romance(Regency)
Series: Noble#4
Source: Received for an honest review from the publisher and Net Galley
Series: Noble series (Book 4)
Mass Market Paperback: 384 pages
Publisher: Sourcebooks Casablanca (August 5, 2014)
Language: English
ISBN-10: 140229445X
ISBN-13: 978-1402294457
(Courtesy of Amazon)
The much-anticipated, brand-new Regency romance from New York Times bestselling author Katie MacAlister.
Can Dagmar flee Denmark
Dagmar Marie Sophie is a poverty-stricken Danish princess whose annoying royal cousin is about to have her stuffed away in a convent. When she finds a wounded man unconscious in her garden, she sees a way out of her desperate situation.
By Lying to Leo?
Leopold Ernst George Mortimer, seventh earl of March, and spy in the service of the king, finds himself on the wrong end of a saber and left for dead. He wakes up not remembering what happened…in the care of a beautiful woman who says she is his wife.
Back in London, Leo-with the help of his old friends the eccentric Britton family-sets out to unravel what he's forgotten… Is Dagmar truly the wonderful, irrepressible woman who makes his heart sing, or is she a dangerous enigma bent on his destruction?
RT Book Reviews praise for Katie MacAlister:
"Cheerful mayhem and…witty banter that sparkles…MacAlister is a rare talent."
"Saucy, sexy, and outrageously fun."
MY THOUGHTS:
THE TRUTH ABOUT LEO by Katie MacAlister is a brand-new Regency Historical romance. #4 in the "Noble" series, but can be read as a stand alone. Witty, a bit of danger, lots of sensuality, with the right mixture of adventure and romance. This story will have you turning pages. Mayhem, humor and fun, what can go wrong? To be honest, if you are looking for suspense, you won't find it here, but if you are looking for an enjoyable read with memorable characters then you are in the right place. The secondary characters are engaging as well as the main characters. They have a bit of a sideline story going on as well. An enjoyable read! Received for an honest review from the publisher.
Rating: 4
Heat rating: hot
Reviewed by: AprilR, courtesy of My Book Addiction and More